New Kitchen vs. Refacing Your Kitchen: Which is Best?
New Kitchen vs Refacing Your Kitchen:
Which is Best?
There comes a time when kitchen renovations are a must, and you have to consider whether you should replace your kitchen entirely or reface your kitchen cabinet. However, it's not an easy decision, especially on a budget. But today, we'll help you determine the best option for you.
Kitchen makeovers can be done by installing a new kitchen or refacing your old units with new doors and accessories, and they're both great options when your kitchen is showing signs of years and years of wear and tear. To make the best choice, you need to understand both options well and know the differences between the two. That's what we'll help you with today!
What Is Kitchen Replacement?
Kitchen replacement is precisely what it sounds like. It consists of replacing everything, not just the doors and drawer fronts, so you can purchase new kitchen cabinets in retail to replace everything. This is a more expensive and time-consuming option because it requires more work.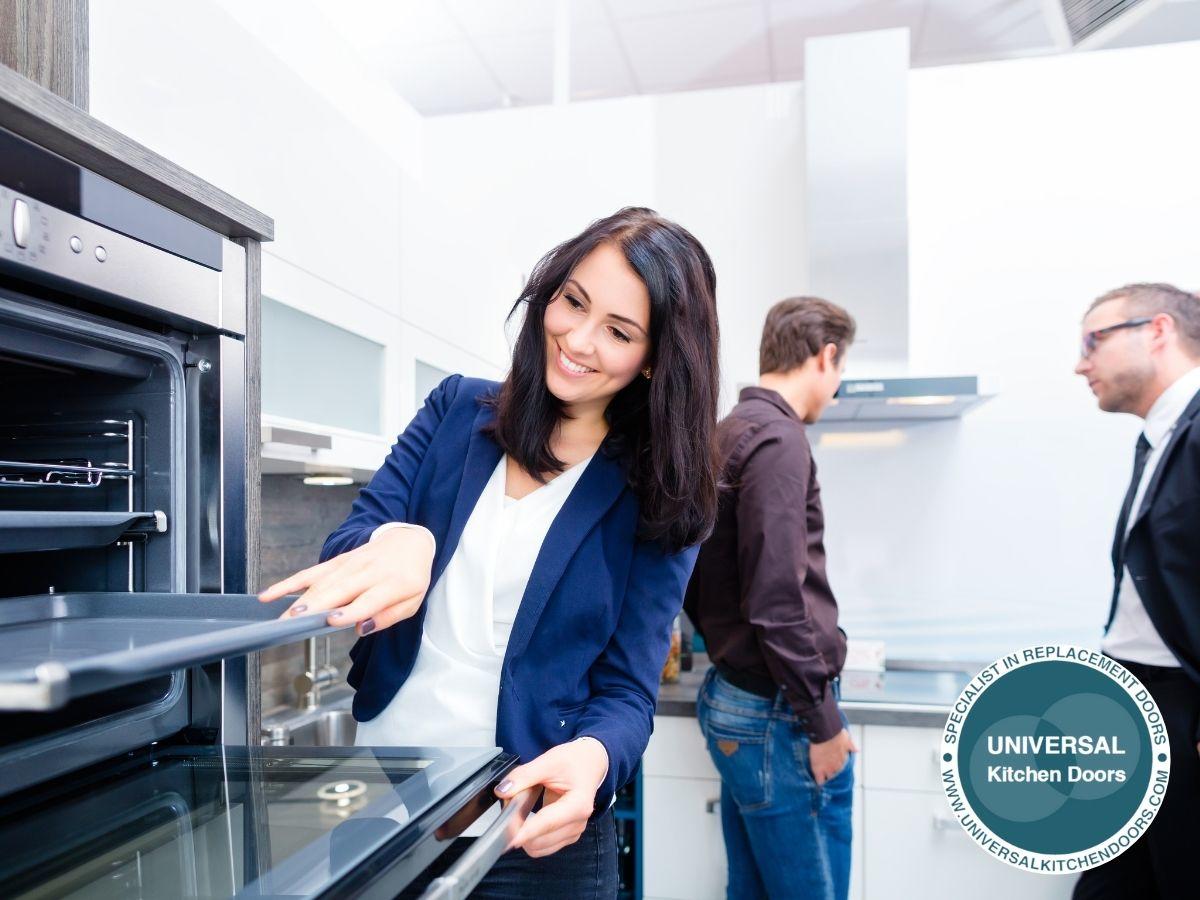 Your kitchen has to be gutted, and your new cabinets will be installed, which will require more than a few days. You won't be able to use your kitchen during that time, so you'll have to eat out. This option is great if you want to change your kitchen dramatically. If your existing cabinets are traditional and want a more modern look, cabinet replacement will allow you to make all the necessary changes.
COST OF KITCHEN REPLACEMENT
As you can imagine, a new kitchen is a more expensive option, costing an average of £17,000. This is an investment, but it's worth it for many people. You cannot do this yourself if you don't have the skills, so you'll need to hire a kitchen fitter. The process of replacing the kitchen cabinets has an additional cost of £3,000 to £5,000, which is something to keep in mind.
You also have to consider other costs. For example, you must choose between stock, custom, and semi-custom kitchens. Going for a custom or semi-custom kitchen will cost you more than purchasing in a retail or trade outlet. The layout size will also affect the price; the more significant the design, the more you'll have to spend because it will require more work.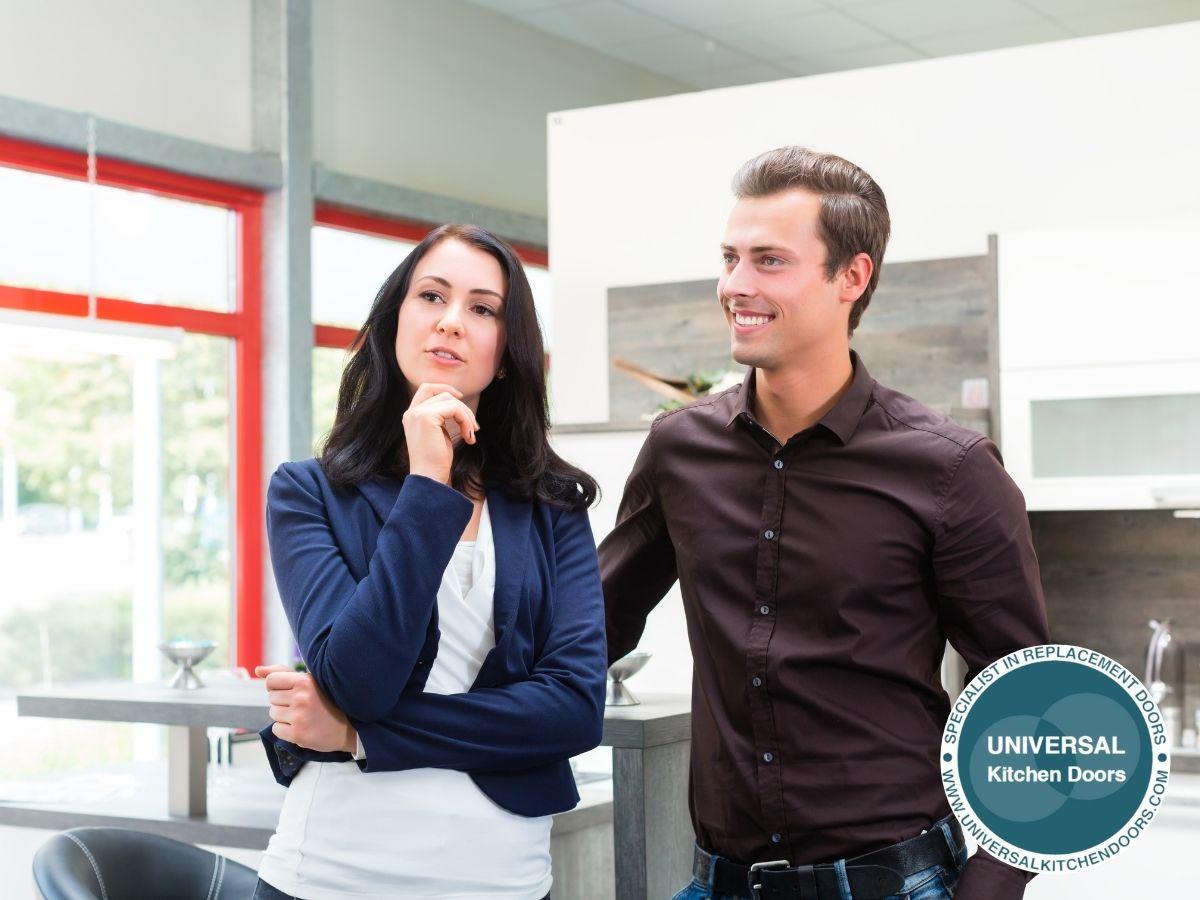 The material you choose is also something to consider. Some materials, like solid wood, are more expensive than others. Lastly, the style of your cabinets will also affect the price tag. If you want intricate designs with more details, it will cost you more than going for simple designs.
Pros and Cons of New Kitchen
Kitchen replacement offers a significant advantage: you will get a new layout. If you choose a new kitchen, it will allow you to make substantial changes to your design. This means that if you're not happy with your layout as it is or you've grown tired of it over the years, a new kitchen will allow you to customize the design however you see fit. You will finally be able to change the kitchen's style, size, and shape.
However, replacing your kitchen cabinets entirely can have more disadvantages than advantages. If cabinet replacement is not something you need to do, you need to consider these drawbacks:
Disruptive demo. If you choose to replace your kitchen cabinets, your kitchen will be unusable until the project is done. You'll also have to take the time to remove everything from the kitchen, place everything in boxes, and find space for them.

Additional kitchen renovations. Once you start replacing your kitchen cabinets, you may find other things you need to change. For example, you may need to move the electric sockets or the plumbing. This will take more time and money.

Professional installation. Fitting a new kitchen is not something you can do on your own if you don't have the proper skills, so you have to invest in professional fitting services. You will need your kitchen designed and installed to ensure everything fits correctly and is level during installation. This is why you need someone who knows what they're doing.


What Is Kitchen Refacing?
Kitchen refacing consists of installing new drawer fronts and doors and new hardware. This option is less drastic and more cost-effective, not to mention it's not as time-consuming. All you have to do is pick new drawer fronts and doors to replace the old ones. You can cover your cabinet ends with decorative panels, matching the drawer fronts and doors you've chosen.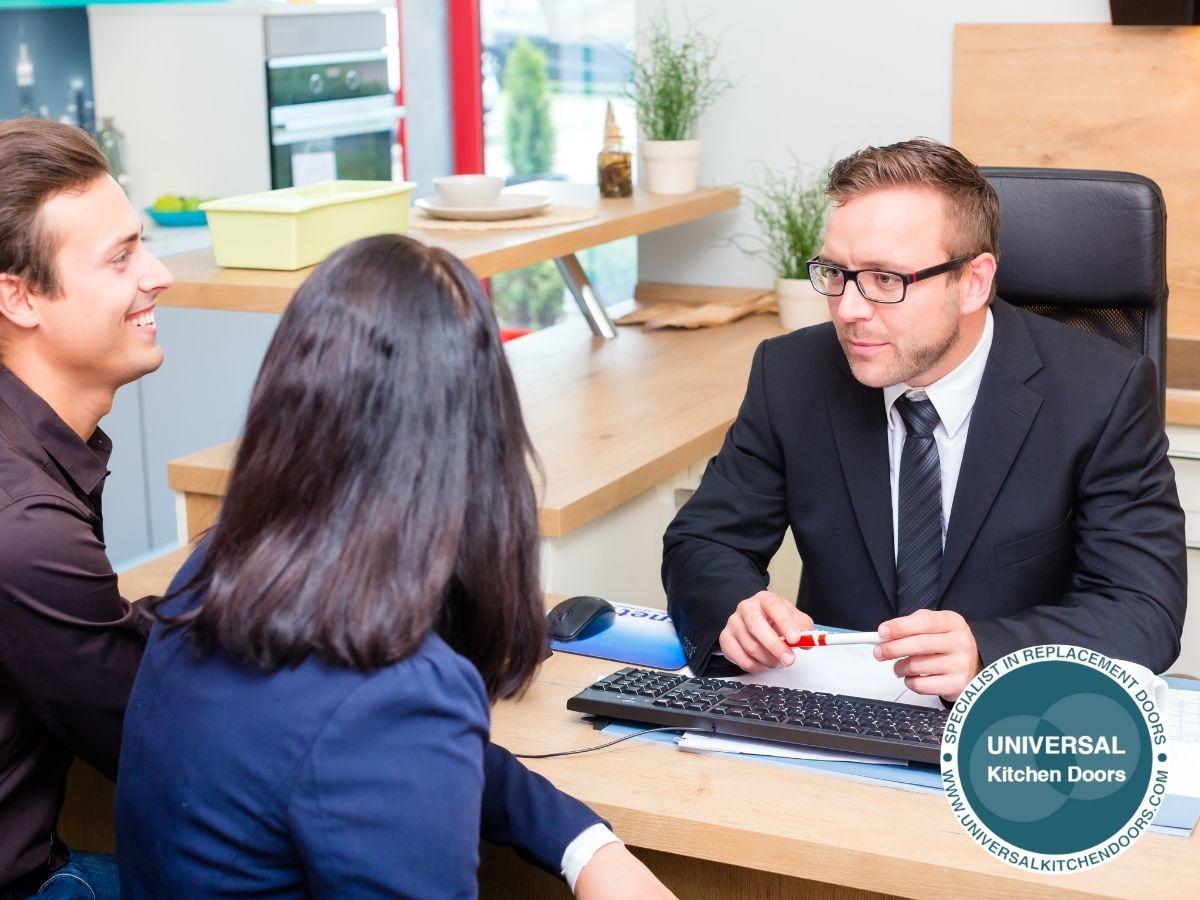 You can choose from many different finishes and colours to give your kitchen a new look without making significant changes. At Universal Kitchen Doors, we provide a great variety of drawer fronts and doors to choose from, and they're all excellent quality. Our doors are FIRA Certified, which means you won't sacrifice quality by doing a cabinet refacing.


Cost of Kitchen Refacing
Refacing your old kitchen drawer frontal and doors is the most economical option, so it's great for people on a tight budget who can't afford to make significant changes. The average cost for replacing cabinet doors, panels, and accessories range from £800 to £1,400, depending on your chosen replacements. Universal Kitchen Doors, the average cost for kitchen replacement doors is £23, but it will vary depending on the size. The larger the door, the larger the price tag.


Pros and Cons of Kitchen Refacing
Kitchen/cabinet refacing is the most efficient option available, and it provides many great benefits, such as:
It's quick. Cabinet refacing takes much less time than ripping out your kitchen cabinets and installing new ones. At Universal Kitchen Doors, we shorten that process by providing pre-drilled doors with hinge holes, making them easy to install.

It's simple. A simple repaint can do the trick when you want to refresh a room. Well, kitchen refacing has the same impact because you get to change the style and the colour without having to tear down the kitchen. It will make it look brand new!

You can DIY. If you make time for it, you can easily replace your kitchen cabinet doors and accessories on your own. This will help you save money and invest in new appliances, accessories, and worktops.

It's inexpensive. We already mentioned the average cost of replacement kitchen cabinet doors, which makes it the lowest-priced option. However, it's also affordable to install if you decide to hire someone to do the job. For example, the average day rate can be from £200 to £300, and it usually doesn't take longer than that to get the job done.

Measuring is easier. Measuring for new doors and accessories when refacing your kitchen cabinets is super easy. You only have to measure the width and height of the existing cabinet doors so you can choose the right size. If you require hinge holes for your new replacement doors, start by measuring the top hinge hole on your old door, measure from the top of your doors to the hinge centre and reverse for the bottom hinge.

It's eco-friendly. Replacing your kitchen cabinet doors is environmentally friendly because your cabinets won't end up in a landfill, which means you're reducing your waste.

You can customize it however you see fit. Universal Kitchen Doors provides made-to-measure doors and accessories that will allow you to customize your kitchen cupboard doors however you see fit. You can choose from hundreds of styles and colours to make your new cabinet doors your own.
However, cabinet refacing is not without its drawbacks. Kitchen replacement doors allow you to keep the same layout in the kitchen, which can be a con for some people. If you want to change your setup completely, cabinet refacing won't allow you to do that.
Another con to keep in mind is that the inside of your cabinets will look the same because you're only changing the doors, drawer fronts and panels. However, this drawback is very easy to overcome. You can paint the inside of your kitchen cabinets or add shelf liners to make everything look different.
HOW TO DETERMINE WHICH OPTION IS BEST
Now that you know exactly what to expect from kitchen cabinet refacing and a complete replacement kitchen, it's time to figure out which option is the right one for you. To do that, you have to consider a few essential factors, such as:
Your budget. The first thing you need to think about is your budget. It would be best to determine how much you can spend on your kitchen renovations. Once you do that, you can decide the scale of the project, whether or not you'll hire help and the kind of materials you want to use. If your budget is tight, kitchen cabinet refacing is the right choice, making your kitchen look brand new. But if your budget is large, you can get your kitchen and replace everything.

Time. Before you get into your kitchen renovations, you need to consider how much time your project will require. After all, it would be best if you fit it into your schedule, so you have to make sure the timeline is something that works for you. If you're going for cabinet door refacing and doing it yourself, you'll need free time to work calmly. Refacing can be done over a weekend, but depending on how large your kitchen is and how many cupboards you'll be working with, it can take longer. If you're going to replace the kitchen totally, you'll need at least a couple of weeks to get everything done, and you'll probably need to hire professional services unless you have the necessary skills.

The state of your current cabinets. Before you decide anything, you must look at your existing cabinets and evaluate their condition. You also want to assess the layout of the cabinets. So, take your time and inspect the doors, the hinges, the inside of the cabinets, the hardware, etc. If the inside of the cabinets is in good shape, cabinet refacing is the perfect option for you. If they're not in good condition and not easy to salvage, investing in a new kitchen could be the right choice.

Kitchen access. Kitchen makeovers often reduce or eliminate access to your kitchen until the project is done. A brand new kitchen is like that, so you won't be able to use your kitchen as long as they're working on it, which means you'll have to find another space to cook or depend on takeout for a few weeks, which is something you should include in your budget.

Professional help. If a full kitchen is an option, you'll need to hire professional service, especially if you have no skills or experience gutting a kitchen and installing new cabinets. It's not a project we recommend you do yourself. However, kitchen cabinet refacing is a simple project, and anyone can do it. You must measure your old cabinet doors and accessories and replace them with your new drawer fronts and doors.

Versatility. Last but not least, you want to consider versatility. Kitchen cabinet refacing is much more versatile because you can choose from a wide variety of options and even get custom drawer fronts and doors, which is much less expensive than having custom kitchen units made for a completely new kitchen. But when you're purchasing retail, the options are limited and standard.

Cabinet refacing is not such a disruptive project, which means you'll still be able to use your kitchen. The only inconvenience is that your kitchen will be a little messy for a day or two whilst your new replacement kitchen doors and accessories are being fitted.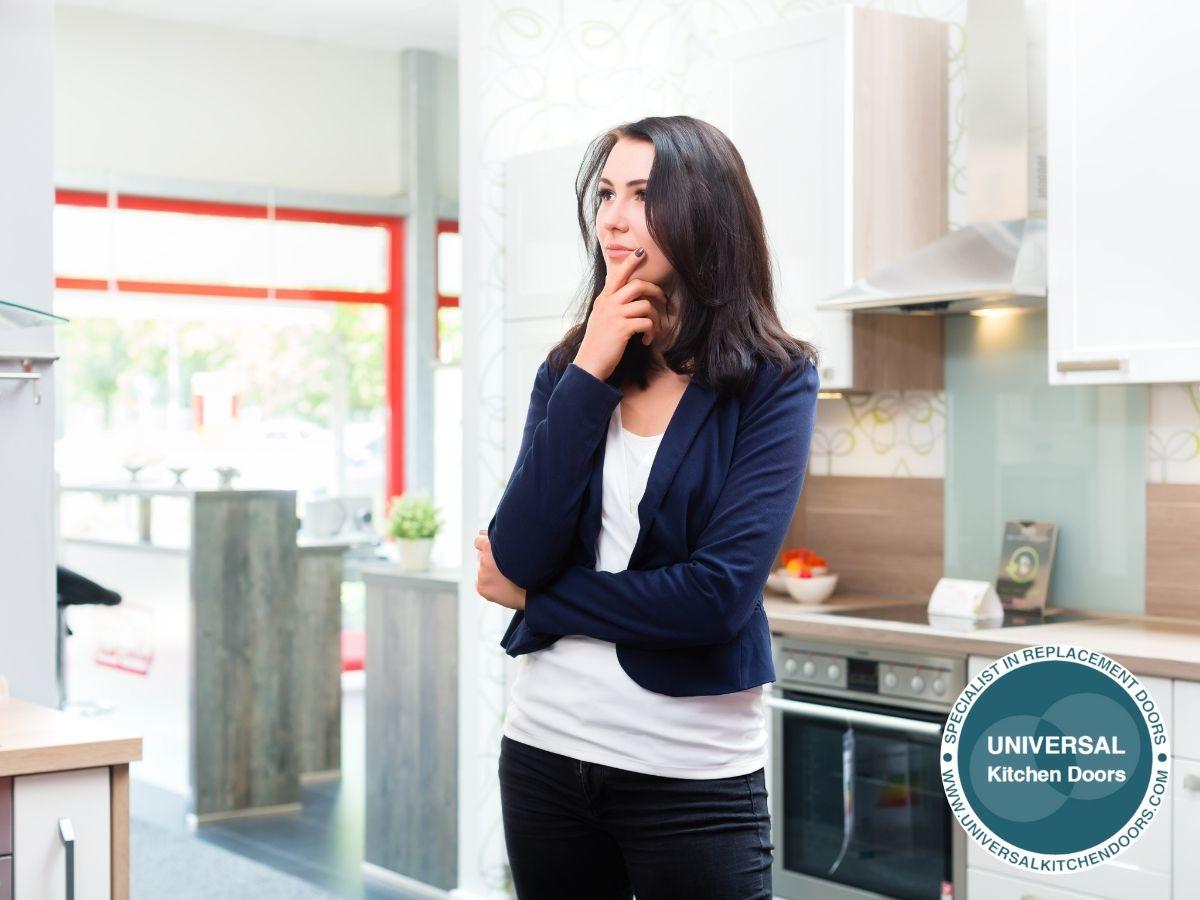 Final Words
If your kitchen needs renovations and your cabinets are in good shape, kitchen cabinet refacing is the right thing to do, and you'll find everything you need at Universal Kitchen Doors. But if your kitchen cabinets are on their last legs, a new kitchen can be a great way to go. Just take your time considering all the factors. It's up to you.